The Agrim Centre is host to a variety of events and disciplines.
OUR MISSION
To promote the agri-recreational activities in the town of Rimbey and in turn, the province of Alberta.
---
The Rimbey Agricultural Society is the proud sponsor of Ryhatta McConnell. She is running for Rimbey Rodeo's Junior Miss.  Best of luck Ryhatta!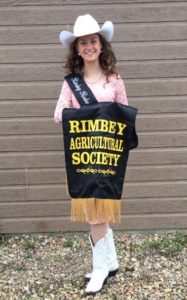 "I am 14 years old, a Grade 8 student at St. Matthew school. I am a 4th generation Cowgirl, two time 12 and under barrel racing CARA champion. I look forward to the 2019 season with my horse, Dawson. My future ambition is to be a professional barrel racer." 
---
---